Difficult Cases, Harmful Co-Parenting
(High conflict cases)
Some of the most challenging cases are those where one or more parents has challenges to their personality structure which makes it difficult for them to amicably and/or functionally resolve issues. Cases are even more complex when one parent is engaging in a parenting style impairs or causes harm to their children's psychological and emotional development. These cases need both structure from court orders, and also self-help because the court system can only go so far to solve the problem.
Challenging personalities can be framed up and understood in terms of "personality disorder", or "disordered-like" behavior, but more effectively in terms of early trauma experience and adult attachment patterns. Very broadly speaking, challenging personalities can be sorted into two basic adult attachment patterns. Sometimes these are labeled coercive, enmeshed or affective vs. dismissive, avoidant or cognitive. The patterns become very clear in the context of danger. Divorce and custody litigation always involve danger, such as the risk of losing relationships, children, property, financial security, and exposure to shame and humiliation.
The first pattern is organized around the person's feelings and their own perspectives, and in particular around the quick spike triggering emotional responses. This pattern involves an affective orientation to the world and to danger in particular. There is a tendency: to oscillate between expressing anger and expressing charming/disarming behavior (or sometimes "rescue me, I can't do it" behavior); to be constantly locked in some sort of struggle which is hard to resolve. Even if it is resolved another struggle quickly takes place. Coercive behavior is a basic default method to achieve what they want. It's difficult to consider other people's needs and perspectives. Rules don't apply to them, but they are used to coerce others into compliance. There is often a combination of difficulty seeing how their own behaviors can be the cause problems, avoiding responsibility and blaming others for all of the problems. Humiliation may be a very triggering emotion, and relatively small problems can be blown out of proportion quickly (snowball).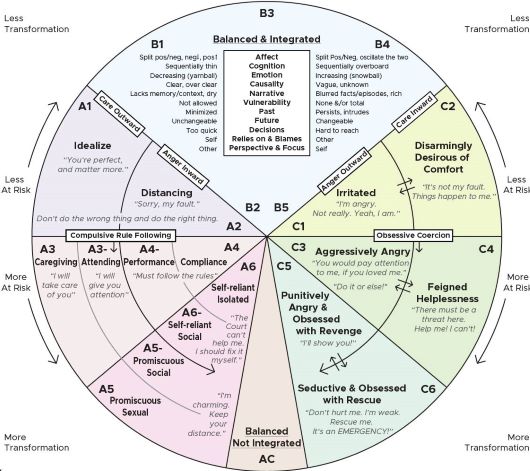 The second pattern is organized around sequential thinking, that a particular fact or event should always lead to another known fact. This often leads to less than functional if/then thinking. "If I just did the right thing, then they would do the right thing." The perspectives of other people or some set of rules are often elevated, even if it ultimately causes harm to oneself.  This pattern involves a cognitive orientation to the world and to danger in particular. There is a tendency: to focus on positive things and ignore or avoid negative things; to avoid conflict even at the cost of emotional harm to themselves or their children; to be very concerned with following rules and doing the right thing and/or not doing the wrong thing (possibly even over-achieving); to be overly self-reliant and not seeking help; to have a hard time seeing that one's own behaviors might not actually be the cause of problems; to take too much responsibility; and, to blame themselves for too many things and not properly assign blame to other people or the situation. Shame may be a very triggering emotion, and relatively big problems can be reduced to nothing and thereby avoided (like tossing a yarnball).
In either case, the issue is recognizing the behaviors and challenges to thinking, particularly omitted information. When relevant information is not factored into thinking, it leads to difficulty resolving conflict and it can motivate behaviors that end up (even if unintentional) causing harm to children, and promoting more conflict. When one parent is engaging in harmful co-parenting, the ultimate harm is the children's emotional and psychological development. Counter-acting that harm involves optimizing a parent's ability to meet their child's attachment (safety) needs to inoculate the harm as best as possible.
"Studies show that most of the population fits, in either small or significant ways, into one of the two primary attachment patterns. Even if a person is functioning with significant cognitive or affective orientations, it doesn't mean that people are bad, or disordered, or evil. It just means that they need help. They may need help controlling their impulses, fighting their desire to avoid addressing something unpleasant, or filling in the missing pieces of logic in their thinking processes. With a little help most people can consider broader contexts and other people's needs." Mark Baumann
Mark and his staff use a variety of techniques to address the personality challenges in family law cases. These are described more at Mark's Integrative Client Counseling Institute web site. The goal is to help clients gain a more clear picture of the challenges they face so they can make more effective decisions about how to move their lives forward and best protect themselves and their children.
360-452-8688